WholeSale Clothing for Women! Free Shipping in USA!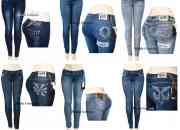 Data of ad
Published
24 of October

/ 13:12hs
Advertiser:
Sophia, Addison
Details of ads
"Moda Genesis" is a company that distributes wholesale while offering a variety of Wholesale Items or products for "Women", Such as Blouses Casual & Elegant, Jeans like Booty Lifter, Skinny and Boot Cut as well as shorts and Capris, Undergarments and much more; we have all that is fashionable, at a low price ... Besides the fact that shipping within the United States is absolutely FREE ...! Also, check our website to enjoy some of our Special and Offerts available for your convienience. All the best is desired for your business and or shop.
For more information visit our website: www.modagenesis.com
Call us at (213) 394-0333, (213) 550-3374 and (213) 550-3373
Remember shipping is FREE ...! Order today ...!Now also available shipments to TIJUANA, BAJA CALIFORNIA and Republica Mexicana at a discounted price ..! Call us today.
Give it a try, Fashion with Moda Genesis is your best option!