studywashington.net
Published: 27 of December of 2020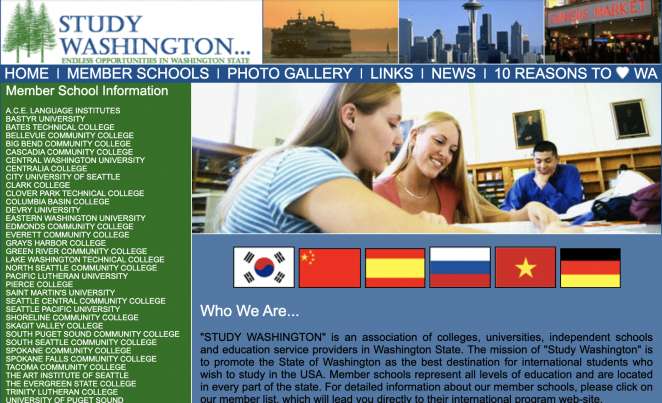 Who We Are...
"STUDY WASHINGTON" is an association of colleges, universities, independent schools and education service providers in Washington State. The mission of "Study Washington" is to promote the State of Washington as the best destination for international students who wish to study in the USA. Member schools represent all levels of education and are located in every part of the state. For detailed information about our member schools, please click on our member list, which will lead you directly to their international program web-site.
Why Study in Washington State?
Washington State is a favorite choice of international students and professionals looking for a high-quality and affordable education. Washington State offers education in a safe, clean and friendly environment. Washington is famous for its natural beauty, opportunities for outdoor adventure, and lively music scene. In Washington State you will find a program for every educational need, from technical training to doctoral programs. Choose from more than forty public and private universities, four-year colleges, two-year community colleges and English language schools. Each school makes it easy for students to transfer between programs to build a successful educational and professional career.
The state of Washington has many exciting features:
World-class companies such as Microsoft, Boeing, Starbucks and Amazon.com
Exceptional cities with great shopping, museums, coffee houses and night life
Home of the Seattle Mariners baseball, Seahawks football, and Sonics basketball teams
Outstanding snowboard and ski resorts
Traditional western rodeos and festivals
Washington State has something for everyone! Go to Experience Washington for a complete list of activities, events, pictures and exciting places to visit in the State of Washington.

Educational Programs to fit your Academic & Career Goals!
Member School Information

A.C.E. LANGUAGE INSTITUTES
BASTYR UNIVERSITY
BATES TECHNICAL COLLEGE
BELLEVUE COMMUNITY COLLEGE
BIG BEND COMMUNITY COLLEGE
CASCADIA COMMUNITY COLLEGE
CENTRAL WASHINGTON UNIVERSITY
CENTRALIA COLLEGE
CITY UNIVERSITY OF SEATTLE
CLARK COLLEGE
CLOVER PARK TECHNICAL COLLEGE
COLUMBIA BASIN COLLEGE
DEVRY UNIVERSITY
EASTERN WASHINGTON UNIVERSITY
EDMONDS COMMUNITY COLLEGE
EVERETT COMMUNITY COLLEGE
GRAYS HARBOR COLLEGE
GREEN RIVER COMMUNITY COLLEGE
LAKE WASHINGTON TECHNICAL COLLEGE
NORTH SEATTLE COMMUNITY COLLEGE
PACIFIC LUTHERAN UNIVERSITY
PIERCE COLLEGE
SAINT MARTIN'S UNIVERSITY
SEATTLE CENTRAL COMMUNITY COLLEGE
SEATTLE PACIFIC UNIVERSITY
SHORELINE COMMUNITY COLLEGE
SKAGIT VALLEY COLLEGE
SOUTH PUGET SOUND COMMUNITY COLLEGE
SOUTH SEATTLE COMMUNITY COLLEGE
SPOKANE COMMUNITY COLLEGE
SPOKANE FALLS COMMUNITY COLLEGE
TACOMA COMMUNITY COLLEGE
THE ART INSTITUTE OF SEATTLE
THE EVERGREEN STATE COLLEGE
TRINITY LUTHERAN COLLEGE
UNIVERSITY OF PUGET SOUND
UNIVERSITY OF WASHINGTON - ENGLISH LANGUAGE PROGRAM
WASHINGTON ACADEMY OF LANGUAGES
WASHINGTON STATE UNIVERSITY
WENATCHEE VALLEY COLLEGE
WHATCOM COMMUNITY COLLEGE
WHITWORTH COLLEGE
YAKIMA VALLEY COMMUNITY COLLEGE
Ads that might interest you